Description
How to redeem:
Select the product you want to request for sample
Add To Cart
Checkout
Fill up the information
Place Order
(We will deliver the sample within 3-5  working days)
T&C Applied.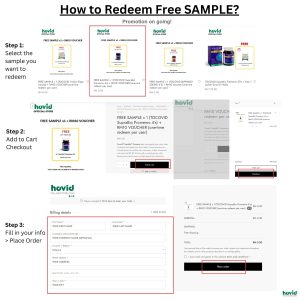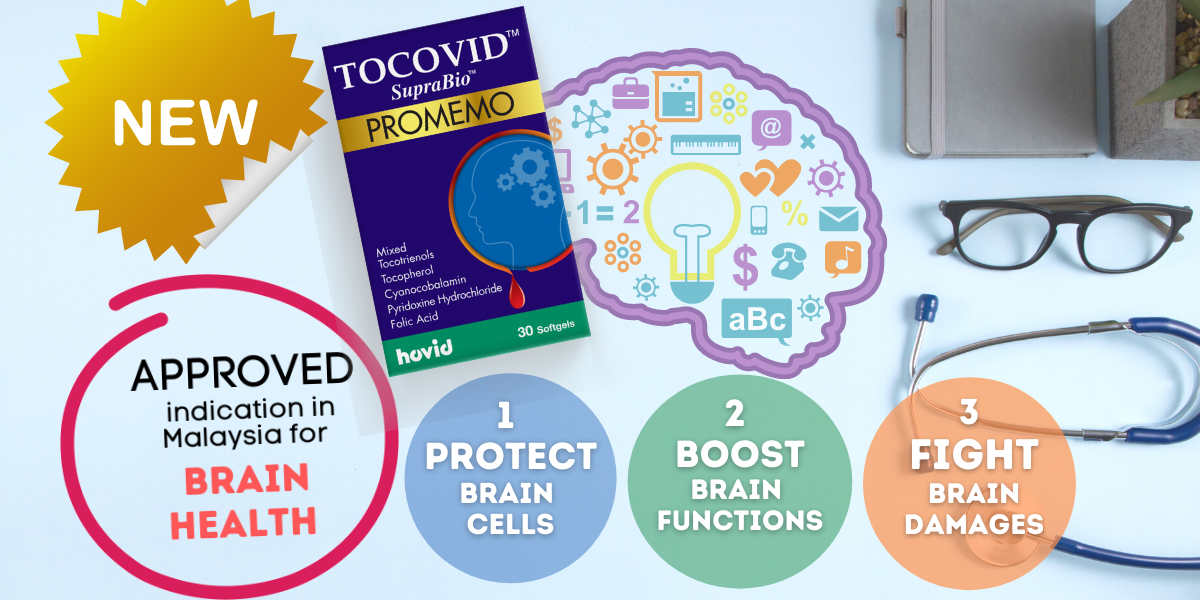 TOCOVID™ Promemo consists of Mixed Palm Tocotrienols in Suprabio™ patented delivery system developed by Hovid Malaysia – a pharmaceutical company producing health products to more than 50 countries in the world.
The Suprabio™ unique delivery system helps to increase and enhance the absorption of palm tocotrienols into our body up to 300% allowing the body to enjoy the maximum health protection. It can reach into most parts of vital organs like the skin, brain, liver, and kidney, allowing the body to enjoy maximum health protection.
TOCOVID Promemo is a new TOCOVID range formulation with clinically proven beneficial in supporting brain health, especially in those senior citizens to maintain a healthy and active brain.
Clinical publications on the benefits of active ingredient of TOCOVID Promemo in supporting brain health.
Stroke Journal 2014
Mixed Palm Tocotrienols 200mg in Suprabio helps to protect brain cells, effectively reduces the progression of White Matter Lesions, a form of brain cell damage.
Plos One VITACOG study 2010
Homocysteine-lowering vitamins B6, B12, and Folic Acid fight against brain cell destruction protect the brain from the neurotoxic effect of homocysteine.
Scientific reports 2016
Folic Acid boosts cognitive performance and reduce peripheral inflammatory cytokine levels.
Suitable for:
People with high-risk factor of dementia or Alzheimer's diseases:
High Blood pressure
Diabetes
High Cholesterol
Obese / overweight
Smokers
Dosage Recommendation:
1 soft gel twice a day to support brain health.
Active Ingredients:
Each soft capsule contains:
Mixed Tocotrienols 200mg
d-Alpha-Tocotrienol 62.5mg
d-Beta- Tocotrienol 10mg
d-Gama-Tocotrienol 91mg
d-Delta-Tocotrienol 36.5mg
d-Alpha-Tocopherol 49mg
Cyanocobalamin 0.25mg
Pyridoxine Hydrochloride 10mg
Folic Acid 0.40mg
30 Softgels in a bottle; Reddish Brown Capsule