Description
How to redeem:
Select the product you want to request for sample
Add To Cart
Checkout
Fill up the information
Place Order
(We will deliver the sample within 3-5  working days)
T&C Applied.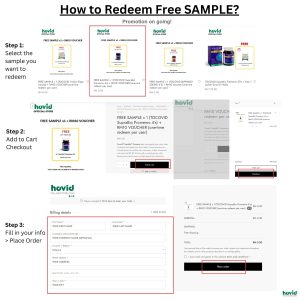 After 50's the Body and Brain needs extra nutrition to keep them continue to be healthy and active, to enjoy life well beyond 50 years old. The NEW TOCOVID VITALITY Nutritional Drink contains a complete nutrition to keep BOTH the BRAIN and BODY active! It is uniquely added with the goodness of Palm Tocotrienols to protect brain cells and comes with 6 Goodness to keep up energized and healthy.
What happens to our body and mind after 50's?
As people get older, they gain wisdom and experience. Unfortunately, the body will show some signs of decline in brain and body health, affecting the quality of every day life.
Aging Brain Challenges
Decline in Memory

Decline in Multi-tasking skills

Decline in Analytical Thinking
Aging Body Challenges
Slower metabolism rate

Lack of energy

Slower bowel movement

Osteoporosis
Tocovid Vitality nutritional drink
– with 6 Goodness for your daily Brain and Body needs
Palm tocotrienol to protect brain cells

High protein to build and maintain muscles & strengths.

High fibers for health bowel movements

High Calcium for bone health

High and sustainable energy to keep you active whole day

Low Fat and Salt– a heart healthy formula
Pack size : 850g