HO YAN HOR Family Pack Herbal/Gold/Night/Ginger [Free 2 S/P Drink]
$18.56
-

16

%

Off
Ho Yan Hor Herbal tea was first invented in year 1941, in a tin mining town, Ipoh. It was widely used to fight flu epidemic among the Chinese migrants. From the 40's till today, mothers trust Ho Yan Hor Herbal Tea when it comes to treating cold and flu.
Ho Yan Hor Night tea comes with a concoction of 21 Traditional Medicinal herbs with Premium Mulberry tea, helps to relief tension, relax and unwind, for a good rest at night. Added with Mulberry tea leaves, helps in reducing tired eyes.
Ho Yan Hor Gold tea comes with Premium Pur Erh tea base. As a natural herbal remedy to help relief from body heatiness, throat discomforts, sore throat, dry mouth and feeling of unwell.
Ho Yan Hor Ginger tea helps to relieve heatiness and feeling of unwell. It helps fight cold and flu. Added with ginger, beneficial in relieving cough and boosts natural healing.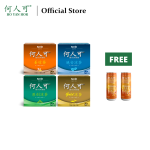 HO YAN HOR Family Pack Herbal/Gold/Night/Ginger [Free 2 S/P Drink]
$

18.56