Description
Palm Tocotrienols is scientifically proven to naturally increase Type 1 collagen production. It activates Pro-collagen type I production, resulting in an increased of collagen fibers to:
Support the structure of the skin
Improve skin elasticity
Strengthen nails
Grow thicker hairs
Improve bone health
One to two softgels a day keeps your collagen production boosted, and you can stay younger and healthier!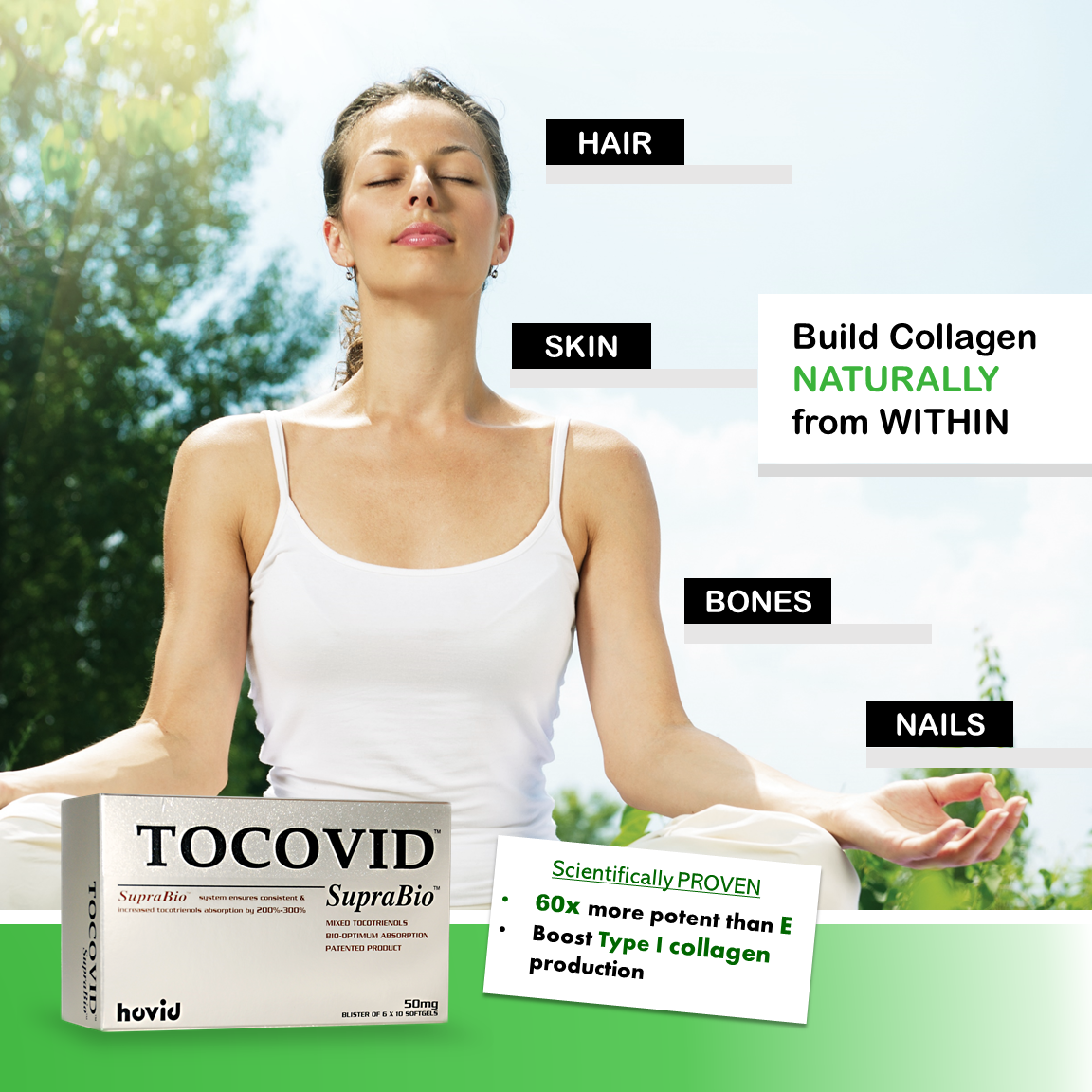 The 5 Benefits of TOCOVID Suprabio 50mg in boosting natural collagen production
14 times Better in Collagen product as compared to Vitamin E1
Tocovid Suprabio comprises of a Natural Mixed tocotrienols, another form of Vitamin E extracted from palm oil and is proven to boost the production of collagen processes naturally from within.
60 time stronger as Potent Antioxidant
Mixed Tocotrienols also contain high antioxidant properties up to 60 times better as compared to normal Vitamin E, Tocopherol. This antioxidant is beneficial for our body to fight free radicals such as environmental pollution, body aging process, stress etc.
Reduce Pigmentation formation when exposed to UV radiation
In vitro studies showed proven results of Mixed tocotrienols with 6 weeks supplementation able to reach to skin tissue and protect against UV radiation 4 times better than Normal Vitamin E. This study provides a promising result on the reduction of pigment formation when exposed to UV rays.
Stimulate Hair Growth Naturally
A human clinical study showed positive results of supplementation with mixed tocotrienol 50 mg twice a day for 8 months with the increased of numbers of hair in volunteers suffering from hair loss as compared to the placebo group. The effects of hair growth are were contributed by the potent antioxidant activity of mixed tocotrienols that help to reduce lipid peroxidation and oxidative stress in the scalp.
Sustainable effect up to 8 weeks from the last dose
A clinical trial found that mixed tocotrienols found that after taking it for 8 weeks and stopped, its protective effects can continue to be seen clearly even after 8 weeks. Tocotrienols are fat-soluble vitamins and they will be stored in the fat tissues and will be released slowly to the body to provide its long-term benefit to the skin, body, and health
Dosage Recommendation:
1 to 2 softgels a day to maintain healthy cells and a healthy body.
Active Ingredients :
Each soft capsule contains Tocomin 50% which typically provides:
d-Alpha-Tocotrienol 15.38mg
d-Gamma-Tocotrienol 28.20mg
d-Delta-Tocotrienol 6.42mg
d-Alpha-Tocopherol 22.90 IU
Plant Squalene 12.82mg
Phytosterol Complex 5.12mg
Phytocarotenoid Complex 90.00ug
30 Softgels in alu-alu blister pack (3 x 10s) in unit box; Reddish-brown